Hatchery Creek Village Lot Auction
Auction Runs from February 27 through March 1, 2019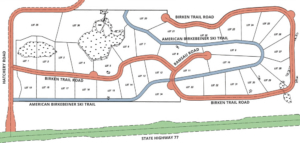 This auction is for lot #2, a 2.8 acre lot in the Hatchery Creek Village located two-miles from Hayward, WI (view map).
Proceeds from the auction will benefit the Foundation for the Endowment of the American Birkebeiner (FEAB).
Hatchery Creek Village is located just outside of Hayward adjacent to Hatchery Park and offers lots directly on the American Birkebeiner Ski Trail. These lots offer night skiing on lighted trails at Hatchery Park and and are perfect for those with active lifestyles that include cross-country skiing, mountain biking, and hiking.
Contact Audun Mikkelson for more information: audun.mikkelson@birkie.com or 907-433-9265 (cell).
The Endowment Property Auction will end at 11:59 PM on February 28, 2019. The highest bidder will be notified within 24 hours. The auction winner can apply the full retail value of $35,000 (not auction price) to an upgraded lot.
Frequently Asked Questions
What is the listed price of the property?
The lot is listed for $35,000.00.
Does this lot have access to utilities?
Xcel Energy is the electric provider. All electric has been buried underground and transformers are in place and ready-to-go.
Are there association fees?
Lots in Hatchery Creek Village have no association fees.
Are there covenants for these lots?
Yes. There are 8 basic protective covenants;
Area cleared for home/yard to be limited to ¾ acre.
No outdoor wood boilers allowed.
Restrictions for pole buildings.
Tree cutting aside from yard area restricted aside from dead or fallen trees.
No burning of garbage.
50 foot vegetative buffer along the American Birkebeiner Trail aside from brush and 4 inch diameter or less trees.
All construction shall be subject to review and approval of architectural committee.
No parking or storage of junked or abandoned vehicles or debris on property.
How are the roads maintained?
Birken Trail Road and Ramsau Road both belong to the Town of Hayward and are maintained and plowed by the Town. Both of these are "no-thru" traffic roads. No costs to lot owners.
Is there a required timeframe for home construction?
There is not a time constraint to build and you may choose your own builder.
Who grooms the Birkie Trail through Hatchery Creek Village?
The American Birkebeiner Ski Foundation grooms the entire Birkie Trail in the winter months and mows it in the summer months.
What amenities are available at Hatchery Creek Village?
Hatchery Park abuts Hatchery Creek Village to the north and offers additional lighted ski trails, along with a picnic pavilion and bathrooms.
Hatchery Park is the southern most Trailhead for the Birkie and CAMBA trail systems. Trail markers for the 6K and 7K points are located in Hatchery Creek Village. County lands abut the north and part of the east 212 acres that comprise Hatchery Creek Village.
The entrance to Hatchery Creek Village is only two-miles from the conveniences of Hayward.
Excellent cell coverage area and high speed internet is available.