Forerunner #32:
Ralph Hansen Hendrix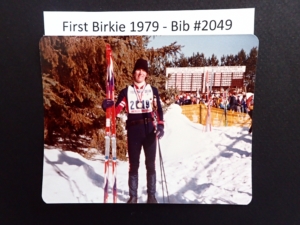 I started cross country skiing with 3 days of lessons at Yosemite National Park in December 1971 and did my first race, The Second Annual Yosemite Nordic Holiday Race, on March 11, 1972. Some time later after doing many local races in California, I became aware of the American Birkebeiner Race. I got my first post college professional job and used the vacation benefits to take part in my first Birkie in 1979. I repeated this adventure in 1980.
The sport of cross country skiing in prepared tracks (ski in; snowmobile; Piston Bully packed and now tilled) and doing citizen races became a hobby and a passion.
I came back to Birkie in 1989 to skate it for my 3rd Birkie. Being somewhat sentimental, after skating many Birkie races, I classic skiied the 2010 Birkie which was then 30 years after my last Birkie classic race. I returned to Hayward in the fall of 2010 to do the first Birkie Trail Marathon.
In order to do cross country skiing regularly, I set up and accomplished some personal goals which allowed me to build a cabin at Donner Summit close to a cross country ski resort and therefore enabling me to ski weekends and during vacation time while working and now skiing throughout the winter as a retiree.
The Birkie has been a constant focus for planning off season and winter training over many years now. If all goes well, Birkie 2019 will be #20 and I will classic ski it since it will be 40 years after my first Birkie!
The trips to the Birkie races are very memorable to me. I have been very impressed with the Birkie Foundation's efforts and recently the Capital Campaigns as well as with the enthusiasm of the Birkie volunteers each time I race. The Hayward community is also very welcoming. Therefore, I wanted to help the Birkie Foundation well into the future.