Nordic Ridge Property Auction
Auction Runs from February 27 through March 1, 2018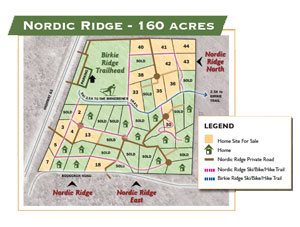 This auction is for lot #2, a 1.8 acre lot in the Nordic Ridge neighborhood near Seeley, WI. Proceeds from the auction will benefit the Foundation for the Endowment of the American Birkebeiner.
Situated at the site of the new Birkie Ridge trailhead (view map), Nordic Ridge is the area's newest trailside neighborhood. Located just 2-miles north of Seeley, the neighborhood boasts acres of mature pine, oak ridges, and hardwood blend hills, providing buyers with the opportunity to match their homesite to their home plan. Bordered on the south and east by Sawyer County Forest and on the west by the St. Croix Scenic Riverway, Nordic Ridge is an outdoor enthusiasts dream property. Every Nordic Ridge homesite has bike/ski access to the Birkie/CAMBA trail system.
Contact Audun Mikkelson for more information: audun.mikkelson@birkie.com or 907-433-9265 (cell).
The Endowment Property Auction will end at 11:59 PM on March 1, 2018. The highest bidder will be notified within 24 hours.
Frequently Asked Questions
If I buy a lot do I have to build soon?
At this time there are no restrictions on when you build or what contractor you build with.
Are there association fees?
There are no Nordic Ridge fees beyond real estate taxes which run about 1% of valuation. These taxes are paid to and billed by Sawyer County.
Are there utilities on the property?
Electric is put to the lots as homes are built. This is included in your purchase. Telephone is also installed as homes are built. Telephone is arranged directly with the phone company.
What is the list value of the property?
The lot value is listed at $34,900. To date, all lots in Nordic Ridge have sold for list price.
What are snowplowing costs?
Snowplowing costs are estimated at about $300 per year. This is based upon an estimate of 10-plowings in a year at $30 per time for your driveway. There are no costs for plowing until you build a home and need the service. Fees vary based upon difficulty of individual driveways.
Who maintains the roads?
All roads in Nordic Ridge are private. All owners sign a road maintenance agreement at closing agreeing to pay a prorated share of maintenance and improvements. In the Brook, which has 10-years of history, costs have averaged $25 per year per home owner.
Who maintains the ski trails?
The ski trails are maintained by an informal ski association made up of all Nordic Ridge owners. Its dues are voluntary, but all owners have participated in the past. Dues are $150 per year for a home and $25 a year for a vacant lot. This allows us to hire someone to groom the trails once a week or as needed.
What borders the Nordic Ridge property?
Sawyer County forest land is to the south and east. St Croix scenic waterway is to the west just across US Hwy 63. It is private land to the North.
Who grooms the Birkie Ridge connector Trail?
This trail is groomed by the Birkie Foundation and is in their regular grooming rotation. This trail is on a 100 wide easement through the center of Nordic Ridge.
Can I access the county land from my lot?
Yes you can. By getting on the community trail or Birkie Ridge Trail you have access to all the county forest land for hiking, snowshoeing, and biking. Lots that border the forest land have direct access at their lot lines.
How far is the nearest place to swim in the summer?
Silverthorn park in Seeley is 1-mile away from Nordic Ridge and has swimming in Silverthorn Lake, a spring fed clear water lake. This park also has a ball diamond, basketball court, and the lake is great for kayaking and paddle boarding. There is also a picnic area there.
Where does the Birkie Ridge Trail intersect the Birkie trail?
At kilometer 15 on the Birkie Trail.
Where do the community trails go in Nordic Ridge?
Every lot has a trail on the border of the lot … all home sites are ski in and ski out!
How do I access the CAMBA system mountain biking trail?
You can either ride the Birkie Ridge trail or Boedecker road to the CAMBA system … it is about 2 miles away.
Closest restaurants?
The Sawmill Saloon in Seeley is 2.2 miles … Rivers Eatery in Cable is about 4 miles … many choices in Hayward and the surrounding area.
What other sort of unique outdoor activities are available close to Nordic Ridge?
Several Namekagon River public landings are within 3-miles of Nordic Ridge. The Namekagon is great for canoeing, kayaking, trout fishing, and wild-ricing can be done on nearby Packquawong Lake.
How many homes are in Nordic Ridge and what percent are permanent owners?
There are now 11 homes in Nordic Ridge. 10 of them are second homes, one is a full time resident.